I am definitely NOT a food blogger. I do, however, love eating and hosting friends at my house which means cooking and baking. I also have a teenager so sometimes I am baking many times a week just to keep him in snacks.  I've always loved home made desserts, and sharing things I've discovered, so I wanted to share this with you. Truth be told, my mom made this a few years back and I immediately asked for the recipe...so props to mom for this one!
This is a really easy, bake ahead, mouth watering, dessert that is especially good to serve on warm summer evenings.  As you can see by my recipe it's been well loved and made many times.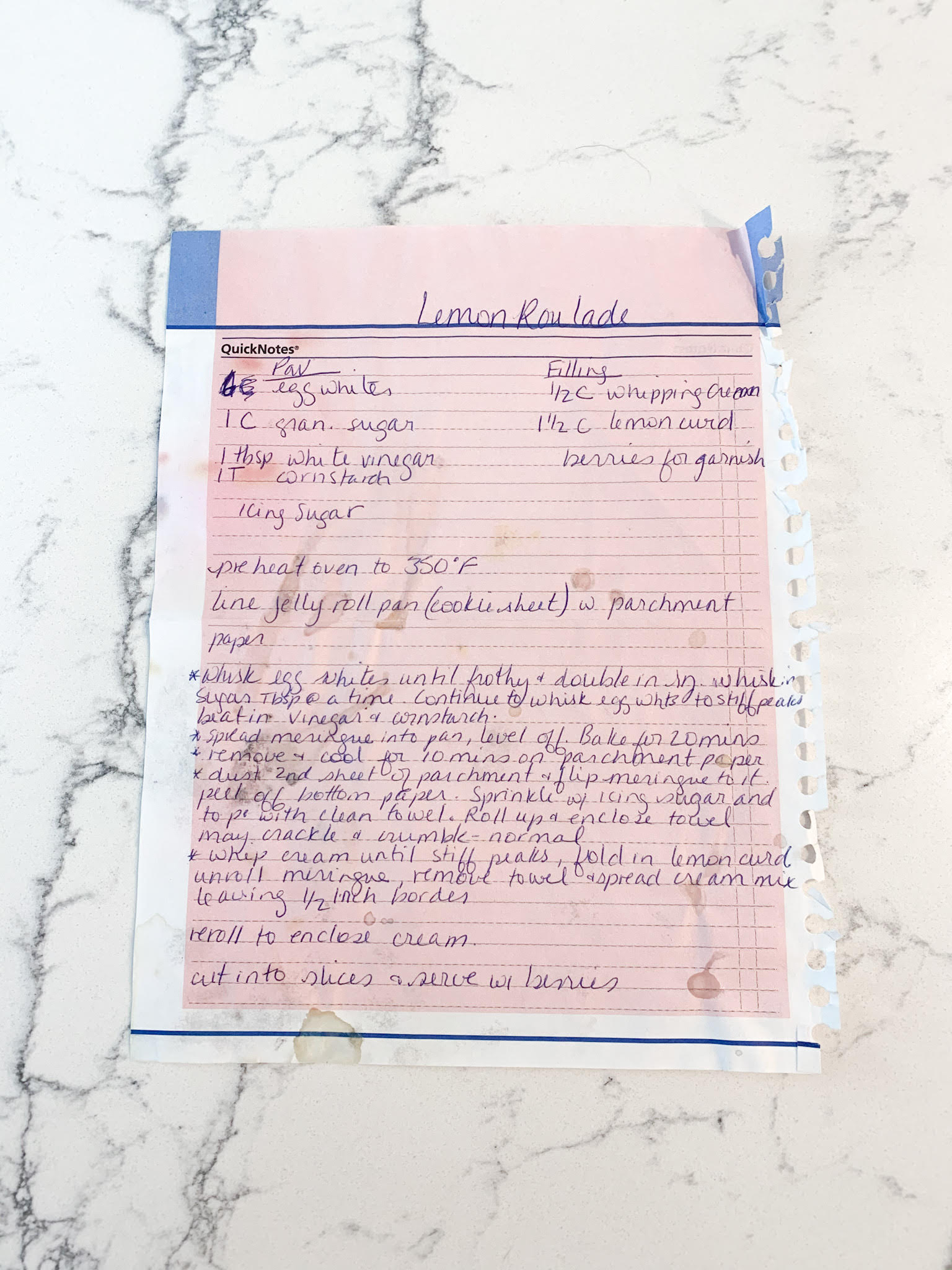 6 egg whites
1 cup granulated sugar
1 Tbsp white vinegar
1 Tbsp cornstarch
icing sugar (no measurement, but if you're the type that needs measurements go with 1/3 cup)

1/2 cup whipping cream
1 1/2 cup lemon curd
raspberries for garnish (sub blue berries if desired)
Preheat oven to 350 degrees
Line a medium to large cookie sheet with parchment paper
*You can make the meringue part the day before if you'd like. You'll want to do the filling and assembly the day of, but you can do it hours ahead, store it in the fridge, and put the raspberries on it as you are serving.
Whisk egg whites until frothy and they double in size.  I recommend a motorized mixer (hand held or the Kitchen Aid kind), otherwise you're going to work!
Add sugar in 1 Tbsp at a time while you continue to whisk egg whites, to stiff peaks. If you want more info on this click here.
Whisk in vinegar & cornstarch
Spread meringue onto the lined cookie sheet in an even manner - about 1 inch thick. *Be gentle as you don't want to lose all the air that you beat into the whites
Place in oven and bake for 20 minutes
Remove from the oven and let it cool on a rack for 15 minutes
Dust a second sheet of parchment paper with icing sugar
Lay the second sheet on top of the meringue & then swiftly flip the cookie sheet onto the 2nd parchment sheet face down
Peel away the "bottom" sheet of parchment (the one you cooked)
Sprinkle the "bottom" of the meringue with icing sugar
Cover it with a clean tea towel
Roll up the meringue (yes, with the tea towel in it) - we're creating the jelly roll shape here. It's ok if the meringue cracks a little, this is a very forgiving recipe.
Whip the cream until it forms stiff peaks
Fold in the lemon curd (you can make it or buy pre-made) - again, do this gently so you keep the air in the cream
Unroll the meringue and remove the tea towel
Spread the lemon curd/whipping cream mix, leaving a 1 inch border
You can add the raspberries to the cream at this stage or wait and just sprinkle them on top of the roll at the end (that's what I do)
Roll up the meringue with cream mix
Add raspberries to the top and sides to present
Slice 1-2 inch pieces, serves ~ 6 people